Automatically tag clothes, footwear & accessories.
Manually typing tags for your products is tedious. Yet, shoppers demand more information while shopping, better filters to narrow results and improved text search capabilities on your website and apps. It's time to automate product data tagging with computer vision & machine learning.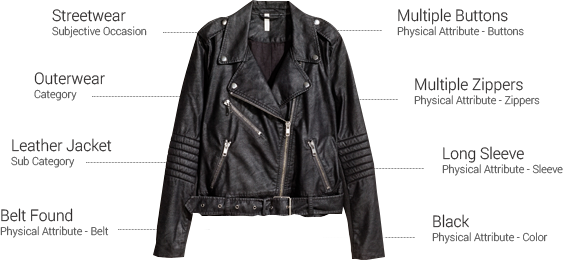 Generate & use product data wherever you need it. Instantly.
Trendage's product data works flawlessly with leading ecommerce platforms, email providers and adtech vendors.

Brand new filters
Enable your shoppers to filter product results with both subjective and physical attributes.


Improve shopper experience
Better feature descriptions result in better shopper experience leading to higher conversions.


Enhance site search
Stronger text descriptions for clothes & accessories leads to better search results on your site.


Improve search engine listings
With fully automated text content your products get the visibility they deserve on leading search engines.


Pay as you go! Pricing is based on the number of product images you process with Trendage's computer vision & AI solutions.



Only pay for what you use.
Volume discounts available.
Easy API integrations & widgets.

Ready to evaluate? Get sample data for your products by filling out the form above.